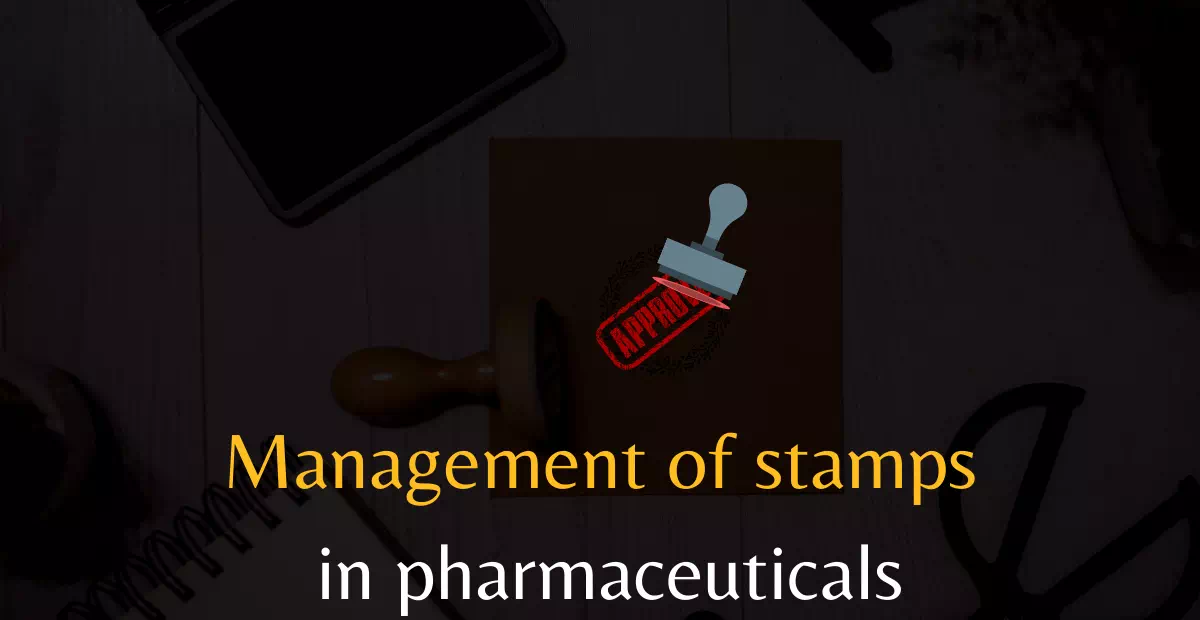 Standard Operating Procedure for procurement, use and destruction of stamps
1. Purpose
To provide a standard operating procedure for verification clock time and time harmonization.
2. Scope
The scope of this SOP is applicable for procurement, use and destruction of all the types of stamps used in in the manufacturing facility at [company name].
3. Responsibility
Quality Assurance (QA) department: To identify requirement of stamps, procure stamps, use of stamps and destruction of stamps.
Quality Assurance head: Review the stamp design. Provide approval for procurement of new stamp, authorize to destroy old stamps
4. Definitions
Stamp: Stamp is a fixed (embossed or debossed) design embedded on the base of rubber, plastic or similar material to make an impression on paper, or any other surface using self-ink or by transferring ink from the ink pad.
5. Procedure
Any stamp to be used in the organization must have to be part of approved SOP.
The stamp should remain in the lock and key with QA department under lock and key. Key should be stored at security gate with controlled process of issuance and retrieval or it should be maintained by authorized person.
Only current version of stamps should be used. Obsolete stamp must be destroyed and destruction record should be maintained.
QA person shall identify the requirement of stamp as per approved procedure (Standard Operating Procedure). The stamp should be available before Standard Operating Procedure (SOP) made effective.
On identification of required stamp, QA person shall draft a design of stamp as per approved procedure, get the draft verified from QA head and send to the approved stamp supplier for designing and supply.
The requirement of stamp procurement should be documented in the format for stamp procurement.
The format shall have details such as name of the stamp, required number of copies, reference SOP number, effective date of SOP, details sent to the vendor on, details sent by, details verified by, specimen sample received to site on (for verification), specimen verified and supply confirmed by, stamps received on, stamps received by, number of stamps received, date of receipt, distribution for use, destruction of old version stamp, stamp destroyed by and destruction of stamp verified by.
Based on the draft provided to the vendor, vendor shall provide specimen template to verify correctness of the design before stamps supplied to the manufacturing facility. It is very important to ensure that ink color is specified while procurement and must be inline with the respective SOP.
Once the stamp found satisfactory, final order shall be released to supply the stamps.
Once the stamps received, it shall be verified for number of copes received, correctness of the stamps. Details of above activities shall be recorded in the respective format for recording. Stamp shall be verified by putting stamp impression in the register for future reference. In case of any stamp found improper, it shall be documented and destroyed immediately as per procedure for destruction.
Received stamps shall be kept in the lock and key. Simultaneously, old version of stamps shall be made obsolete. Record for the same shall be maintained.
List of all stamps, number of copies and distribution copies shall be maintained. In the list, stamp shall be linked to the respective SOP number and revision number with effective date.
List of authorized personnel for using of stamps shall be maintained. It is authorized personnel's responsibility is to ensure that stamps should not be handled by unauthorized personnel or misuse of stamp.
Any modification of stamp required should be governed through change management program.
In case of stamp gets damaged or remains unusable, additional stamps shall be procured using the above process. Record for reordering and destruction of old stamp shall be maintained.
Reason for reordering shall be documented.
Types of stamps are as follows:

Master Copy
Controlled Copy
Specimen Copy
Obsolete copy
Uncontrolled copy
Company seal
Reference only
Approved
Rejected
Verified
Photo copy
Manufacturing date
Expiry date
QA verified
Stability batch
Validation batch
Hold time batch
First batch of the year

Procedure for destruction: In any case, the stamp needs to be destroyed; the record for destruction and reason shall be maintained. It may be change in SOP, damaged stamp or any other reason.
The rubber stereo or part of the stamp which is giving an impression shall be defaced using appropriate tool in order to ensure that the stamp remain in non-usable condition.
Authorization for stamp destruction shall be pre-approved before destruction of the stamp.
Once the stamp is destroyed, it shall be appropriately destroyed.
Reconciliation of the stamps shall be maintained to ensure that all the stamps, which needs to be destroyed are taken for destruction.
In case of stamp is misplaced, it shall be investigated using Quality Management (QMS) System tool such as deviation or non-conformance procedure. Appropriate investigation and Corrective Action and Preventive Action (CAPA) should be proposed.
In case of stamp misplacement and found untraceable, stamp should be immediately revised to avoid any probability of misuse.
6. Frequency
Revision of SOP which may have impact on the design of the stamp
SOP is discontinued (Destruction)
In case of stamp is damaged during use.
7. Formats
Format for stamp management
| | | | | | | |
| --- | --- | --- | --- | --- | --- | --- |
| Sr. No. | Name of the stamp | Reference SOP number | Effective date of SOP | Required number of copies | Reason for procurement | Details sent to the vendor on |
|   |   |   |   |   |   |   |
Continue…
| | | | | | | |
| --- | --- | --- | --- | --- | --- | --- |
| Details sent by | Details verified by | Specimen sample received to site on (for verification) | Specimen verified and supply confirmed by | Stamps received on | Stamps received by | Date of receipt |
|   |   |   |   |   |   |   |
Continue…
| | | | | | | |
| --- | --- | --- | --- | --- | --- | --- |
| Number of stamps received | Stamps verified by | Distribution for use | Destruction of old version stamp | Stamp destroyed by | Reason for procurement | Destruction of stamp verified by |
|   |   |   |   |   |   |   |
Stamp requisition and procurement form
| | |
| --- | --- |
| Stamp requisition and procurement form |   |
| Date |   |
| Name of the stamp |   |
| Stamp draft design |   |
| Reference SOP number |   |
| Required number of copies |   |
| Stamp Required by (date) |   |
| Details filled by |   |
| Details verified by |   |
| Stamp submitted by vendor on |   |
| Number of stamps received |   |
| Impression of each stamp |   |
| Number of stamp found inadequate |   |
| Stamp details and impression verified by |   |
| Details of stamps entered into the register by | |