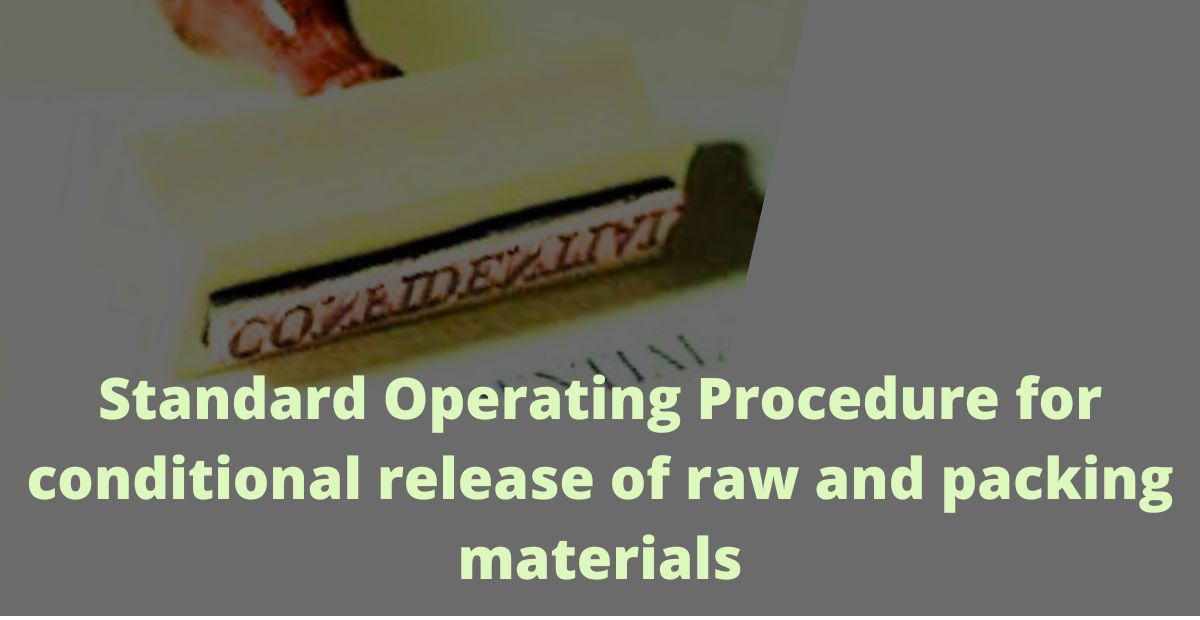 Standard Operating Procedure for conditional release of raw and packing materials
1.0 Purpose:  
To describe the procedure for conditional release of Raw and Packaging materials for manufacturing and Packaging of drug products.
2.0 Scope:  
This procedure applies to all raw materials and packaging materials received at [Company name] for manufacturing of exhibit batches. It applies to commercial batches only in exceptional circumstances e.g., instrument / equipment breakdown, non-receipt of test results from external laboratory.
3.0 Responsibility:
PPIC / Manufacturing / FD / TT
Request for Conditional Release
QC
1.  Verification of Request for Conditional Release
2.  Conditional Release of materials3.  Final Release of materials
QA
1.  Approval of Request for Conditional Release
2.  Review of Final Release of materials during finished product release3.  Ensuring Final Release of material during finished product COA release
Warehouse
1.  Dispensing of conditionally released materials and updating status of stock
2.  Tracking the final release of conditionally released materials for status update
4.0 Definitions:
Raw materials:  
A raw material is a basic material that is used to produce goods, finished products or intermediate materials e.g., Active Pharmaceutical Ingredients and excipients (including colors and flavors)
Packaging Materials:
Packaging is the technology of enclosing or protecting products and Materials for distribution, storage, sale, and use. Packaging material is the material used for the packaging. It includes primary packing material like HDPE bottles, caps, films, foils etc. which come in direct contact with the product, secondary packaging material which come in contact with primary packaging material e.g. Labels, pack inserts, cartons etc. and the tertiary packaging materials like corrugated boxes etc.
5.0 Procedure:  
5.1. General Instructions:
5.1.1. PPIC/ Manufacturing/ FD/ TT shall initiate the request for conditional release of RMs and PMs in the format described in Attachment-1. Details such as name of material; SAP code; SAP batch number; Material Document No. and Date; Vendor batch number; date of request; impacted finished product name along with batch numbers shall be recorded by initiator.
5.1.2. The concerned department (PPIC/ Manufacturing/ FD/ TT) shall specify the reason for the request based on the requirements of manufacturing plan.
5.1.3. The QC shall review the reason for request and ensure following for approval:
5.2. QC shall ensure that the material is received from an approved vendor and a COA is available for the particular batch / lot.
5.3. QC shall perform sampling and test the material for Description and one Identification, at a minimum, to release the materials conditionally.
5.4. For API, at least Assay, LOD or Water Content shall be performed, to release the material conditionally.
5.5. Results of the performed tests shall be recorded in section 4 of the respactive format.
5.6. Head of QA / Designee shall review and approve the conditional release request based on above considerations and assign a Request No. in the format CR-XX-YYY where CR stands for Conditional Release, XX stands for last two digits of the year and YYY stands for sequential number that shall start with 001 at the beginning of each year.
5.7. QA shall maintain a log of conditionally released materials .
5.8. Upon approval of the conditional release form, QC person will unrestricted stock in SAP.
5.9. QC person will print the  "Conditionally Released" label as per format provided in respactive SOP. After printing the labels, printed label shall be reviewed for correctness of the contents and initiated with date by QC.
5.10. QC shall affix the "Conditionally Released" label on the containers and obtain an acknowledgment from the Warehouse on the Conditional Release form.
5.11. QC shall continue and complete all other remaining tests as per approved specifications.
5.12. QC shall release the material as per current edition of SOP after completing the analysis and review of the analytical data.
5.13. QA shall ensure and verify that the conditionally released material is fully tested and released by QC, before the release of finished product.
5.14. The Conditionally Release label shall be defaced before affixing the Approved label on the respective container of the material.
6.0 Acceptance Criteria:
Not Applicable
7.0 Frequency:
Not Applicable
8.0 Format for recording: 
1. Format of Request for conditional release of materials (raw materials and packaging materials)
| | |
| --- | --- |
| Name of Material |   |
| SAP Code |   |
| Material Doc. No. |   |
| Vendor Batch No. |   |
| SAP Batch No. |   |
| Material Doc.Date |   |
| Request No. |   |
| Date of Request |   |
| Impacted finished product name |   |
| Impact finished product batch number(s) |   |
Request for Conditional Release:
1. Reason for Request: _______________________________________________________________________________________________________________________________________________________________________________________________________________________________________
2. Request raised by (PPIC / Manufacturing / FD / TT):
______________________________________
(Name, Signature and Date)
3. Request Verified by QC:                                                                        
______________________________________
(Name, Signature and Date)
4. Test Results (for those tests performed by QC for conditional release):
| | | | |
| --- | --- | --- | --- |
| S. No. | Test | Observed Result | Acceptance Criteria |
|   |   |   |   |
|   |   |   |   |
|   |   |   |   |
|   |   |   |   |
        (Attached copy of analytical report, wherever necessary)
5. Request Approved by QA with comments (if any):  _____________________________ (Name, Signature and Date)
________________________________________________________________________________________________________________________________________________________________
6. Acknowledgement by Warehouse: Conditionally Released label affixed – Yes / No ______________________________________ (Name, Signature and Date)
7. Final Material Release by QC: ______________________________________ (Name, Signature and Date)
8. QA Review during Finished Product COA Release:  Material Released – Yes / No                                      
Verified by:  ______________________________________ (Name, Signature and Date)
2. Format of Logbook for conditional release of materials (Raw materials and packaging materials)
| | | | | | | | |
| --- | --- | --- | --- | --- | --- | --- | --- |
| Date of Request | Request No. | Name of Material | Item Code | GRN / STN / Retest Note No. | QA Approval Date(Sign / Date) | Date of Final Material Release by QC | Verification of Final Release by QA before Finished Product COA Release(Sign / Date) |
|   |   |   |   |   |   |   |   |
|   |   |   |   |   |   |   |   |
|   |   |   |   |   |   |   |   |
|   |   |   |   |   |   |   |   |
|   |   |   |   |   |   |   |   |
|   |   |   |   |   |   |   |   |