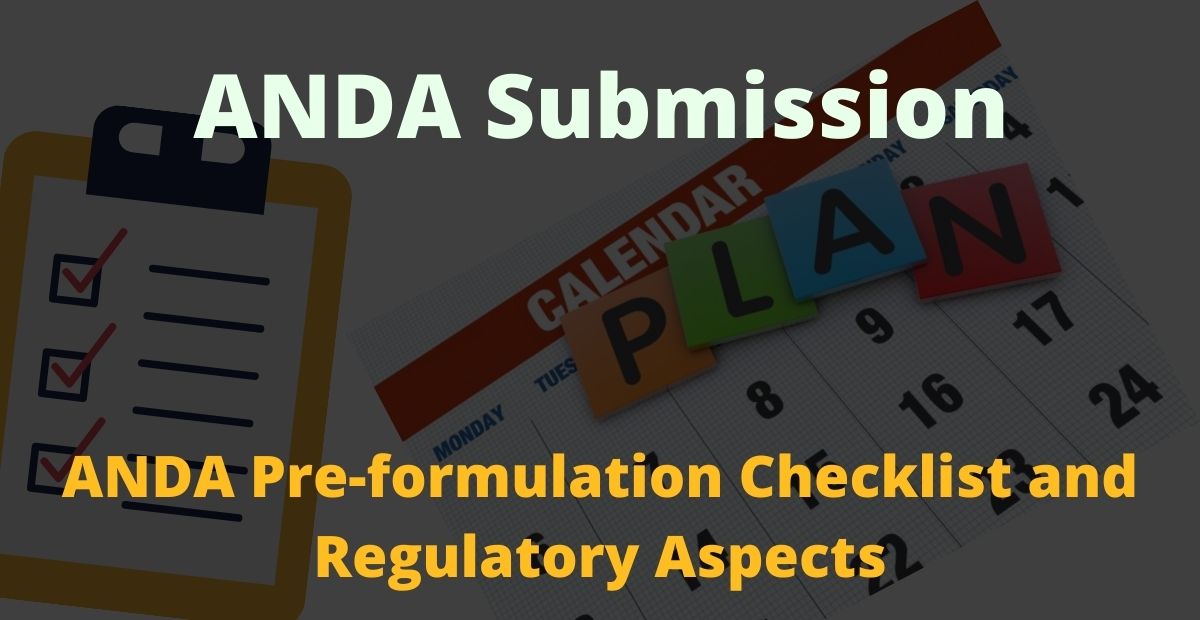 ANDA Pre-formulation Checklist of 19 points and Regulatory Aspects
Developing successful generic drugs in the minimum possible time without costly mistakes demands a considerable pre-planning with the regulatory affairs department.
Efficient project managers can visualize all the vital sections of the ANDA submission file before pre-formulation work has been started.
The regulatory affairs department must ensure that the innovators' drug or the reference listed drug (RLD) is fit for generic manufacture and marketing.
This article aims to allow the reader to envision the entire generic development route in a full and sensible picture.
Review the initial regulatory check before pre-formulation checklist to obtain an initial overview of the forensic regulatory elements.
The marketing and sales department requires an early determination on pack profiles s to initiate the product's stability specifications.
ANDA Pre-formulation checklist
1. Comparison of generic drug with the Reference Listed Drug as per FDA Orange Book or innovator's product.
2. Revised Form FDA 356h review with all DMF numbers.
3. Submission Cover Letter draft preparation and review.
4 Ensure that the patent certification is clear for a generic product development.
5. Understand all the ANDA sections in the registration file concerning to:
• Development
• Pivotal batch requirements
• Manufacturing procedures
• Formulation
• Intermediate and final product specifications • Stability requirements
6. Statement preparation for expiration of exclusivity period.
7. Basis preparation and review for ANDA Submission.
8. Ensure that the latest edition innovators package insert obtained.
9. Check the labeling statement on number of strengths and package sizes.
10. Ensure that the innovators package insert has no exclusive indications.
11. Readiness of proposed draft labeling for carton for main and side panel.
12. Addition of firm details on proposed ANDA Package Insert.
13. Conversion of innovators Insert into a generic package insert and removal of an exclusive indications if any.
14. Repeat checking of Innovators insert for its latest edition and date before ANDA submission.
15. Comparison of insert with and innovator's insert.
16. Review and list all DMF numbers provided by vendors of Active Ingredient Suppliers, Excipients, Container closures and coating materials.
17. Ensure that ANDA package is in compliant with latest guidelines published for industry for respective formulation.
18. Preparation for patent certification statement.
19. Dissolution Profile Comparisons
Cover Letter for ANDA application
The cover letter should be drafted on the letterhead of the Applicant or the Applicant's Agent organization and should have the following information on it:
1. Purpose of Submission
2. Name of Applicant or the Applicant's Agent
3. Type of Submission, for example – Original ANDA/ AADA, Supplement, Re-submission, or Amendment to the original application
4. Title of Applicant
5. Signature of Applicant
6. Proprietary name/ Organization name
7. Generic name of Drug Product
8. Number of volumes submitted
For the ANDA submission, if a foreign company will have either a US agent or US subsidiary company to act as the applicant when the finished drug product is developed and manufactured outside the US.
Table of contents
Table of Contents as per FDA guideline required to be provided for quick access to all the requied sections of the ANDA submission file.
These sections will contain the overall formulation development details, manufacturing and control data.
After preparing this section, thorough review of each section should be done to ensure there are no errors in the section. This is a vital document to navigate to the correct section of the ANDA filing and it will aid significantly during the review process
The development work must be presented in structured manner in the respective CMC section indicating the choices made and work done to fulfill ANDA filing requirement.
Application form:
Signed Application Form should have all DMF numbers of starting materials and primary packing material used for the final product presentation.
In case any contract laboratory is used for analytical work applicable for ANDA submission, ensure the site FDA inspection status to ensure that site is not under OAI or the status that may prevent the ANDA approval.