July 10, 2021: Pharmaceutical Interview Questions and Answers
1. Explain the construction of tablet friability tester, testing process and limit.
i. Plastic chamber that revolves at 25 rpm
ii. For testing it operates for 100 revolutions
iii. Dropping the tablets from a Distance of 6 inches in the tester
iv. The tablets are weight before and after rotation. De-dust tablets after rotation. Perform calculation in percentage weight loss.
v. Limit of friability testing is NMT 1.0 %
2. What is Disintegration Time (DT) Test?
Disintegration time is time taken to breakdown of the tablets into granules or primary powder particles.
3. Explain the of tablet disintegration tester parts.
i. Basket rack assembly
ii. A suitable vessel for the immersion liquid
iii. Heater for fluid heating between 35°C and 39°C
iv. Basket in the immersion in fluid at frequency rate between 28 and 32 cpm (Cycle per minute)
v. Distance of up and down not less than 5 cm and not more than 6 cm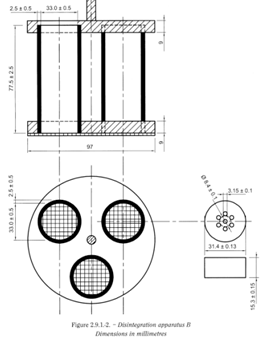 4. What are the common tablet defects at compression stage?
Weight variation
High friability
High or low hardness (resistance to crushing)
Sticking
Picking
Capping
Laminating
Chipping
Mottling
Double press or impression
Cracking
Binding
Edging or Flashing of tablet
Disintegration time abnormality
Black Spot/ particles/ fiber
Improper embossing or debossing
Layer separation
Improper Layers
5. What are the different types of tablet coating defects?
Blistering
Chipping
Cratering
Sticking or Picking
Pitting
Blooming
Blushing
Color Variation
Infilling
Orange Peel or Roughness
Cracking or Splitting
Twinning Erosion
Bridging